Kajal Lace Border
Kajal® Flozen Trendz (i) Limited is a well-established company and we introduce ourselves
We are the manufacturer, exporters and suppliers of ladies garments and accessories, fabrics and lace borders: Our range includes All type of ladies garments and fashion accessories, different types of fabric design and range of laces such as Sarees border, Dresses, Kurtis, Lehengas, All over fabrics, etc. We have a broad range of ladies garments and accessories, fabric material and lace designs from which you can select your favourite design and colour as per your needs. Mostly all the lace products, available with us, have popular fancy Design, Styles, Colours, and Sizes to provide you.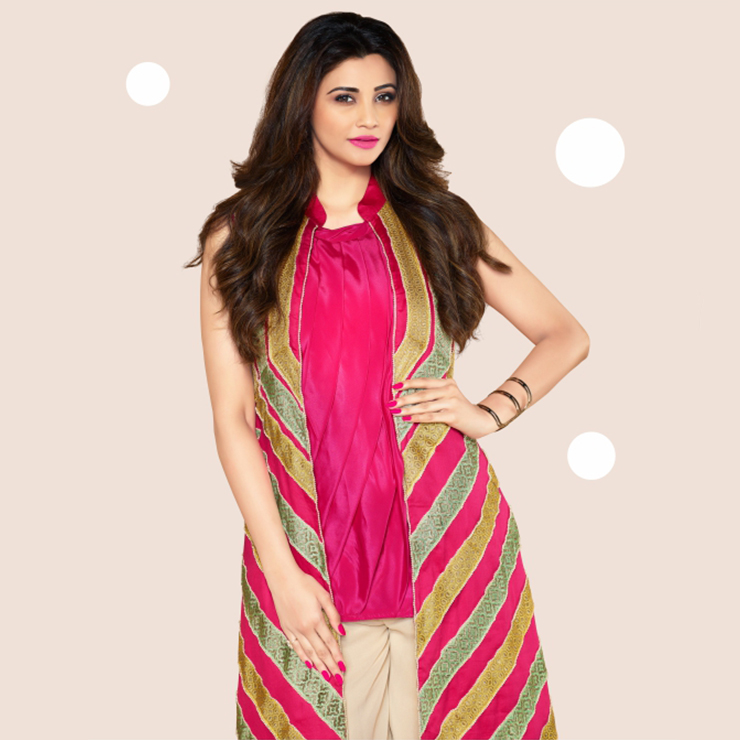 Mission
To be the best in fashion Industry by providing one to one technical Services and delivering the unique ladies garments and fashion accessories, fabric design and lace material required by Clients.
Vision
Integrity, Honesty, Commitment and Respect to both Internal and External customers through transparency in Every Deal.
Values
Transparency and Trust
Human Touch
Fair to all
Empowered teams
Promises always honoured
Responsive to customer needs
The superior quality of production
Ownership of partner success
Passionate about excellence
  Merchandise and design Leadership
  The simple and Speedy process that enable quick decision
  Customer's satisfaction & delight
  Effective communication.
  Concern for the environment and the community
  To provide a safe workplace & boost good work habits
Kajal® Flozen Trendz (i) Limited is established in the year 1995. Kajal® Flozen Trendz (i) Limited. Over a period of past 23 years, have grown up from a scratch to a Manufacturing total capacity of 1,23,60,000 Meters of Laces per month and has achieved a turnover of around 165 crores plus per annum.
Kajal® Flozen Trendz (i) Limited is creating superior quality ladies garments and accessories, fabrics, with the state of Art technology, Capable Manpower and best of raw material including Cotton, Nylon, and Polyester. Kajal® Flozen Trendz (i) Limited has the vivid collection of ladies garments and accessories, fabric material and Fancy Laces.
Kajal® Flozen Trendz (i) Limited is approximately dealing in different type of ladies garments and accessories, fabric design and 20000 plus different fancy lace and combinations and has a Uniqueness to match almost anything which is required by the fashion Industry.
The company has grown-up from a small manufacturing unit to a 308000 Square feet big production unit at Kamrej, Surat. The plant is ISO 9001 and ISO 2015 certified. Our plant has the capacity of total 1309 machines presently. We as a clothing manufacturer take all the care and initiative to treat Employees and workers in Best possible ways. We provide required rest, 2 times refreshments and medical care to all our workers. The end result is a high-quality finished product with 0.50% deviation in delivery time limits.
For the convenience of Customer's, the Company has opened 2 reasonable size showrooms at 3/2174, Kajal House, Near Universal Textile Market, Beside Ram Temple, Opp. Kohinoor Textile Market, Kamela Darwaja, Salabatpura, Ring Road, Surat, Gujarat 395003. In next 5 years company plans to open 67 Retail stores in India and serve Fashion production Industry at Large throughout India. We are Exporter to major Textile producing countries Bangladesh, Srilanka, UAE, Vietnam, Africa and worldwide to name a few.
For Innovative beautiful ladies garments and accessories and lace design Creation, we hire Designers from Paris. We have supplied our finished products to many of Bollywood Fashion Designers. Kajal® Flozen Trendz (i) Limited has hired Brand Ambassadors many Bollywood actresses to name a few 1. Daisy Shah, 2. Preeti Zinta, 3. Zarin Khan and 4. Shreya Sharan and many more.
Our Expert Team:
Our expert team of the most experienced & qualified professionals put in all of their work efforts, towards the achievement of several of the companies targets. These work professionals, enlist on the points of their ability and desire to perform. To control their working in the most powerful and well-planned manner, the team has been separated into a number of highly working units. The team is parted based on their ability in the specific purpose. Further, regular basis trainings, meetings are provided on the basis of charging them according to market changing.
Why Choose Us?
We are evaluated in the market to be one of the leading manufacturers, traders, exporters, and suppliers of ladies garments and accessories, designer embroidery fabrics manufacturer. To live up to this market status, we grab in the utilization of high grade yarns, materials & modern apparatus, in compliance with the set industry norms and guidelines. This ensures the product's finishing and elegant design. Further, the range of its standardized quality is known to be priced reasonably and delivered in the most punctual manner.
Further, the key element for which we have received respect from our clients all across the world includes:
1. Always effort to improve the utilization efficiency of the products
2. Maximize on skilled & expert manpower
3.The pool of well-planned engineers skilful with the latest technologies
4.Authorize with strong marketplace network
5. Products are provided at fashion industry competitive prices